A Self Portrait Journey Through Pregnancy
By: Chelsea Harem of Chelsea Marie Photography
Pregnancy Announcement
13 Weeks
15 Weeks
18 Weeks
20 Weeks – Gender Reveal
21 Weeks
24 Weeks
25 Weeks
28 Weeks
31 Weeks
32 Weeks
Dear Baby Boy,
Your brother has been so protective of you over these past 8 months. The other day, he was so relieved you weren't hurt after he accidentally stepped on my toe. You have not yet entered this world, but your bond is already apparent. He loves watching you kick and feeling your rhythmic hiccups as you prepare for life outside my womb. There are so many beautiful things for you to see and so many things for you to learn in this great, big world of ours. We are so ready to welcome you to it. It's been a blessing watching your brother grow and now we've once again been blessed, with you. My love will not be divided between the two of you, for my heart will only grow bigger and my love will multiply.
Love, Mom
34 Weeks
36 Weeks
38 Weeks
Dear Baby Boy,
Now that I'm only days away from holding you in my arms, I'd like to take a look back at this miraculous journey that we've been through together. For months, I held you safe in my womb while you grew; rejoicing in this glorious bond only that of a mother and her child can share. I loved you from the very moment you were conceived; even before I knew you were there. I'll forever remember feeling your faint movements for the first time; tiny flutters that soon became hard kicks, punches, and rolls. I felt as you developed and became stronger by the day. I watched as my belly slowly grew larger and stretched farther. Your brother made his mark on my body during the journey that he and I shared together. I often refer to these scars as a road map. A map that has been permanently etched on my skin as homage to the two lives that I helped create. It's been my honor and privilege to share new roads with you. I feel as though I've traveled a million miles and have learned so much about you in the process. I have yet to lay eyes on your beautiful face. Have yet to feel your delicate hand grasp my finger, tickle your tiny toes, and inhale your sweet aroma, but nobody else knows you like I do and nobody ever will. Your father and your brother have formed a special bond with you as well, but have only witnessed ours secondhand. Soon, our extraordinary journey together will be over and I'll have to share you with the world. But I can take solace in knowing that as one journey ends, another will begin.
Love, Mom
Welcoming Baby Kolter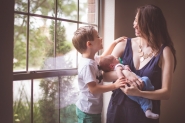 Chelsea, of Chelsea Marie Photography, is a lifestyle photographer based in the Houston, Texas area. Chelsea's firstborn son, Kale, is her muse and capturing his everyday life has been her passion since he was born. On June 5th, 2015 they welcomed a second little muse into their family! It's a fact that Chelsea's two loves, Kale and now Kolter, will have their lives well-documented, but she also wants to insure that they know that she was there too. Chelsea is a huge advocate of stepping in front of the camera as often as possible and she urges all photographers to do the same! Facebook | Website
There was an issue loading your exit LeadBox™. Please check plugin settings.