Beyond the Wanderlust  Oregon Shootout  |  Wedding Inspired Shoot Out | September 21st, 2013
Who- Anyone with a Passion for Photography
What- Beyond the Wanderlust Shootout
Where- Eagle Creek, Oregon (Near Portland)
On a HUGE farm with a large Victorian Style home.
When- September 21st, 2013 3:30- Sunset
$199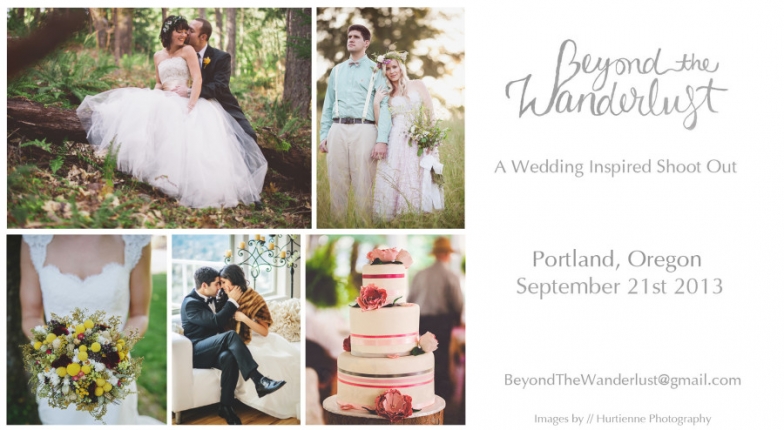 Details
What is a Shoot Out? An awesome opportunity to build your photography portfolio, meet other photographers, models and local vendors. We will do all the work,  select beautiful models, hire professional hair and makeup artists, stylists, and prop designers, and  pick a beautiful location. All you need to do is show up with your gear and shoot!
Our events are kept small, with no more than 15 attendees. We want to keep it intimate so that everyone has a chance to shine! Small groups allow everyone the opportunity to have 1:1 time with the models.
While the shoot out is not a formal "teaching" workshop, there will be plenty of chances to ask questions, and lots of hands-on learning!
There will be up to 4 real-life couples, modeling Bridal and Wedding attire in a Soft, Whimsical, Romantic style.
All will have professional hair and makeup, and a fully styled wardrobe. Multiple stations will be styled to provide many opportunities for each photographer. If you are looking for a GREAT portfolio building opportunity this is for YOU! Light snacks and a swag bag included!
The First TEN people to sign up get their choice of a Lightroom Preset or PS Action pack of their choice!! ($40 Value)!
More Info
All photographers must provide models and vendors up to 3 images for use in their Portfolio if requested. All images may be blogged, or submitted for publication, or contests, however links to Beyond the Wanderlust must be included. Models are not to be "friended" or  "tagged" in the Facebook and/or Instagram images, however.
Event Planner/Stylist- A Well Crafted Party
Dress Designer- Sunjin Lee
All monies paid are non-refundable.
Interested Vendors
Beyond the Wanderlust was created in January 2013. In 8 short months we have gained a large following on both our blog and our facebook page.
We currently have over 14K fans on Facebook, and average over 1,300 blog hits per day and that number is growing drastically each week. We have collaborated with some of our industries "Celebrity Photographers" and we have some huge projects that we are working on.
Please consider teaming up with us for this event.
Thanks!
Flyer Inspiration Images -Hurtienne Photography