Artist Interview with Michelle L Morris Photography
Tonight starts the kickoff to the PASSION & COURAGE workshop with Michelle L Morris. This week I sat down with Michelle and asked her some questions to find out what brings passion into her life. If you haven't joined our four week group with Michelle there still are limited seats left. Active seats will only be available through this evening, with silent seats available during the four week course. Find more information HERE.
How did you get your start in the industry?
In my home office, with YouTube as a close companion, mostly at 1AM when all the kids were sleeping and my husband had lost interest in the day. After having children, I quickly became frustrated that my photos were not as beautiful as I remembered, from living in the actual moments. I wanted to remember the childhood of my children as magical and emotive. When my photos did not reflect this, I made a commitment to pursue improvement. The snowball continued to roll and grow over the years as the passion for photography ignited my soul.
Where do you find most of your inspiration?
I am most inspired when I take time to stop and look around. Seems easy and obvious, but it's rare for me. I'm easily caught up in the urgent, which leaves me often forgetting the important. I have to make a conscious effort to stop, exhale and absorb all the goodness around me. When I do, I am meaningfully inspired.
Where do you want to find yourself in 5 years?
I don't know, and I'm glad I don't. Thus far, my life has turned out to be a far cry from my adolescent plans. I have three beautiful children, which I did not plan, live in a new state, have a career in a path I never expected and homeschool, which I was certain was the strangest thing anyone could choose. It's fascinating to think about my life in 5 years, but short of setting goals as a mere guideline, I will just have to see where life takes me…
What is your favorite part with teaching?
Identifying with others. Having those moments where we both think we are the only one who does something a certain way or struggles with a particular challenge. I believe we were created for community, and this alone, for me, is the best part of teaching.
What do you best hope to achieve in Passion & Courage?
I hope to inspire, guide, teach, reflect and grow with 25 other photographers. I will bare my soul and become an open book, with the hope that it will garner vulnerability and growth from others. 
If you could re-do anything in your career what would it be?
I wish I would have had the confidence to start even sooner.
What world issues are going on currently that you feel aren't photographed enough?
The good. There are so many negatives swirling around us at all times and I seem to think the media perpetuates this. I would love more imagery of the hope, the miracles… the good in the world. It's there, but we just don't see enough of it. One of my current favorite projects is Humans of New York. I would love to see more along these lines.
If you could live anywhere in the world to capture people, where would you live and why?
I would love to travel to Mozambique to spend time with the children in the villages. My why is simply because their joy in life is astounding despite the lack of provisions. I'm fascinated with their perspective and their ability to see the good around them, regardless of hunger, dirt floors, straw roofs, etc. Joy is magnetic to me. I'd absolutely love to capture these people on film.
What achievement are you most proud of?
Personally, my children and my marriage. Being a parent is hard work, but I wake up everyday and try to love as much as possible. Marriage is just as hard, in such different ways, but I've consistently worked at it and I certainly see my twenty years with my man as an accomplishment. Professionally, I am most proud of my three e-books and the sales they have generated. I'm humbled that so many others, of varying skill levels, have a desire to learn from me.
What is your favorite quote?
"I can face the waves, for I trust the One who made the ocean."
Artist Biography: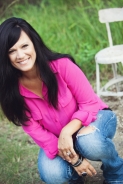 Michelle L Morris is a childhood, family and commercial photographer located in Savannah, Georgia.  Michelle's work has been published in Click Magazine, Mozi Magazine, South Magazine, Savannah Magazine, Savannah Morning News, Richmond Hill Reflections Magazine, The Skinnie Magazine, Coastal Family Magazine, the Savannah Music Festival Program, and the Savannah Visitor's Guide.  These publications have included editorial features, as well as covers. Michelle's photography has also appeared on billboards and inside product catalogues for multiple companies. Her school photography division has served over 7,000 families since the origination in 2009.  Michelle has authored 3 e-books, (The unPacked Catalogue, A Camera's A Camera, The Open Book) and recently celebrated over 1,000 copies sold.  Michelle is also a homeschool mom to three young boys and a business coach to many photographers around the world. | Facebook |Website | Blog | Instagram | Pinterest | Google +