Creating from Consciousness
Looking Inward to Stay Inspired

By: Jamie Scott of Jamie Nicole Scott, Photographer
Consciousness is experiencing a moment physically, emotionally, and energetically.
It's a big part of my creative process and I would love to share it with you here today.
Have you ever shot a session and felt like you were going through the motions? Have you ever felt uninspired behind the camera or overwhelmed with nervous energy? If so, you are not alone. I've been that person who nervously bit my nails up until the start of every session. It wasn't until I truly looked inward and created from a place of consciousness on a personal level that I was able to let that fear go.


PERSPECTIVE
First, I must urge you to find what inspires you beyond the camera and beyond your comfort zone. Whatever it is – it should inspire highs and lows. It might even feel risky. It can be literal or figurative. It should humble you and make you feel like ONE OF A KIND. I want you to look deep down inside and think about what it is that you would photograph should life not put any boundaries on it. Even if you think it's too simple or strange – it matters.  It matters because I'm betting it has a lot to do with your authentic self. It's where you come from subconsciously. It's what makes you a unique soul with an exclusive outlook.
It is YOUR perspective. Own it.
 ENERGY
Before my outdoor sessions and/or photographing my own children, I like to stand in the moment and really sense the energy. I connect with where I'm standing, the direction the wind is blowing and the sounds I hear. I try to sense my surroundings before I even look at my subject. This is a big step in releasing nervous energy for me.
Part of shooting consciously is experiencing the environment as a whole alongside your subjects. In a way it forces us to slow down and enjoy it even more.
 If you take anything away from this piece it's that not one single person can connect with a moment the same way you do. I don't know about you but I am inspired by photographers who have a unique perspective on ordinary things.
Does using this technique to connect with a moment mean you have to be inspired by the same things as me? Absolutely not.  To some people, I might be a big nerd who just likes to live in an abstract world.  You may be inspired by something far simpler than I am.   Whatever it is – I hope it sets your soul on fire.  I hope it's something you wake up thinking about until you lay your head down at night.  I hope it makes you happy.
Namaste
---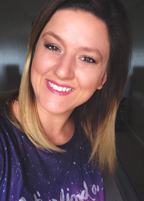 Jamie is a soulful natural light photographer based out of Lafayette, Indiana. When she's not taking care of her three little girls you can find her seeking inspiration from the sky or indulging in a nice strong espresso. She enjoys shooting environmental portraits of her children but her greatest joy comes from teaching them how to be humble under the stars.