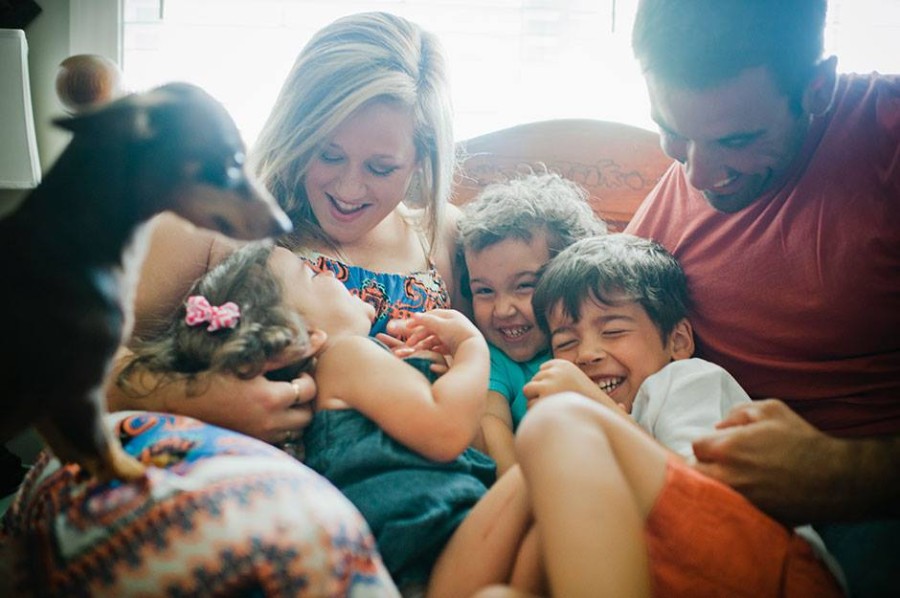 Photograph by: Deanna McCasland Photography
Another Mother's Day is here and cue all the stories and memories to make you cry for the entire day. I personally have become such a huge sap within the last couple years, so today is a day I try to dodge those mushy stories. If your husband is like mine, then ESPN is on every morning. ESPN is so much more then just sports but truly bringing the meaning to sports and what happens when emotional connections are made. Love them or hate them, they always have the most motivating stories on, and today was no different. ::insert cry baby mess here:: I sit and listen to these stories of what these moms did or why their children think they are so special, which brings me to my children. All of us moms, I am sure, want the best for our kids; and I am no different. I recently saw a picture of a mom with her iPhone at the playground and the child was playing on the swing. The caption said something along the lines of put the phone down and enjoy. Personally that picture was very hurtful. For some of us moms, this is providing for our kids and why do other moms feel the need to judge each other? Trying to connect the stories from ESPN and this picture, I realize these kids don't remember their mom's imperfections, they remember the dedication their mother had for them. This should push all of us to be more open to how each mother provides their love. Life isn't as black & white as we like to think but more emotional shades of gray. I personally hope this Mother's Day is as memorable as mine is.
xoxo,

Mother's Day by Stephanie's Photography
In 2005, my grandfather passed away.  Days after the funeral I sat in his recliner as my aunts and my mom hustled around me cleaning things out and going thru things in his house.  My aunt was digging around in the back of a closet and she found a box that was filled with slides and old photo albums.  Some pictures were of people I didn't know, taken when he was in the military.  Most, however, were of my mom and aunts when they were little, some of which my mom had never seen.  I was ecstatic.  That was the only thing that I wanted out of his house, this box full of memories and nostalgia.  The next weeks of my life were spent scanning slides and retouching old photos.  I was preserving the legacy that my grandpa had left behind, but my mom and aunts were also reliving memories of their past.  The smiles, laughs, and tears that came out of that box of pictures were heart warming and therapeutic.  They had served their purpose.
My friend Jamie, who is also a photographer, called me one day.  She was kind of upset and said "I am not in any of these pictures with the girls.  There is no proof that I am here. I shoot images of them all the time, but I am never in any of the images."  I told her we needed to fix that and we scheduled a time for me to come down and hang out.  The images below are what we photographed that day.  Just Jamie and her girls hanging out, snuggling and doing their thing.  I look at these images that I captured for my friend and I can't help but think about what Quinn and Ella are going to think about these images when they are adults. Of course Jamie can take these images and blow them up on her wall and even as the girls grow she can look back at these and remember them at that exact moment.  It is also the legacy that she is leaving to them.  Her girls are going to be able to look at these images and remember how beautiful she is and how much their mother loved and adored them.
What do these two stories have in common?  They both prove how effective a simple photograph can be at preserving a person's memory.  How one photograph can bring pride and purpose to a family. This conversation with my friend really made me think about what I do as a career.
Why do we do what we do?  We aren't just photographers.  We don't just show up snap a few shots and go home to edit.  We may feel like that's what we do but it's not.  We are memory and family legacy preservationists.  By creating prints, wall canvases, and albums we are creating family heirlooms.  These heirlooms that will be passed down from generation to generation as tangible memories.  I think about that now, as I am photographing a family.  While they are giggling and having fun with one another.  I think about how much fun they are going to have in 30 years when they are remembering these moments with their kids and grandkids.
"Time is not on our side as mama's.  It flies.  While some days are so long and so hard I am focused on enjoying every second of it. I want my girls to remember me, I want to make sure that I leave them something to look back on.  As mothers, photographer or not, it is imperative that we get in front of the lens.  For our kids memories sake."  – Jamie Faulkner Photography
So, while you are out there celebrating this Mother's Day, enjoy every second you have with your kids and try to make sure you get in those images with them.  Even if it's just a selfie.  Do it.  Your kids don't care if you don't have any makeup on or if you feel like you need to lose 10 pounds.  They just don't care.  So get in the frame! Leave your kids something to remember you by.  I know I am so thankful to have those images that we found an my grandfathers and I know that in 30 years Quinn and Ella are going to be so thankful that they have these images with their mother.