Hiking Out of a Creative Rut
By: Kelly Jacobi of Kelly Jacobi Photography 
Sometimes you can feel it coming. It starts slow and everyday the feeling intensifies. Other times it hits you out of no where. Either way, at some point you find yourself staring at your camera, devoid of any excitement or pull towards it. You are in a creative rut.
For me there seems to be no rhyme or reason to their timing. It just seems like part of the process. Like ocean waves pushing and pulling with the tide. There is a high and a low.
I'm not one who takes a break when I feel like this. I know I have to push through it, or it's all too easy for a week to turn into a month, or maybe three months. When I feel like I am in the thick of one of my ruts I know it's time to take a long hike with my guys. It's something we enjoy doing as a family anyway. My husband, if he could, would choose to never step foot inside again. He feels alive and untethered in the fresh air. My boys are much the same. They love to explore; to wander off the trail and inspect every bug and every log. They chase lizards, dig holes, and sprint with the breeze.
Watching their unique personalities come to life in their own ways when we take our hikes is one of the things that lights a fire in me creatively. I slow down and see them; really see them. One is quiet and pensive in his own world exploring, while another is wild and eager, and the other hangs back and takes it all in before deciding how to proceed.  But one things is the same for all. I see their joy in the simple things. I see how their curiosity far outweighs the race to the finish line.  Their excitement fuels my excitement. When they stop to explore I stop to see the world through their eyes. By the end of the hike I feel a creative flame flickering inside ready to ignite again.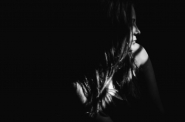 Kelly is a photographer based in Concord, North Carolina, living with her husband and three wild boys. Kelly seeks to record their life in an honest and emotive way. Balancing the mother and the artist /documenting and creating art; she captures each moment not always as they were but as the way they felt. She is delighted by the simple things and believes there is beauty in the details.  Facebook | Website | Instagram