Letting Go of Perfection
By: Angee Manns of 2B Seen Photography
I have a serious case of wanderlust.  As a child I moved all over the country with my family for my dad's line of work.  I hated it – always the new kid at school, never in one place long enough to make any real friends.  Luckily I had two sisters who were built in friends wherever we went.  When we finally settled in one spot I was elated.  That was twenty-three years ago.  My desire to go and see new things returned in full force roughly twenty-two years ago.  Going somewhere new with my camera in hand?  That's living.
My ten-year-old son has inherited my wanderlust.  Five years ago he wanted to see the ocean so I made it happen.  Two years ago he wanted to see the mountains so I took him to the Smokies.  Last year he wanted to see the snow-capped Rockies.  So over the Independence Day weekend we took a family vacation with my sister and her three boys to the Rocky Mountains in Colorado.  And of course, my camera tagged along.
Here's the problem with being an artist on vacation, as much as I wanted there to be, there didn't seem to be a lot of opportunities for creating art.  I couldn't help but ask the boys to smile at the camera with the mountains in the background.  I want them to see these photos years down the road and hopefully remember how cool it was to see those mountains.  I want them to see the smiles on their faces and know how happy they were to be there.
So after I get home and upload the photos I immediately start criticizing myself.  This would be a great photo, but I cut their feet off.  Oh I wish I had taken a photo of this while he was doing that.  I wish I had handed the camera off to my husband more to show that I was actually there.  The vacation is over and I can't recreate those moments.  So I have to let the thought of perfection go.  I even (gasp!) deleted some!  I'm okay with the "smile at the camera" photos.  I'm okay with the handful of photos I have of myself with my family in this amazing scenery.  It's well documented.  From riding in the car, to jumping on the hotel beds, to swimming in the hotel pool.. It's all there, perfect or not.  I cherish all of them, and I hope the boys will, too.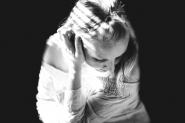 Angee, of 2B Seen Photography, is a full time career mom to a 10-year-old boy, a couple of furbabies, and a flock of chickens. Angee lives on a farm in Central Missouri with her new-to-be husband.  In her free time Angee is a photography enthusiast with a love for all forms of memory keeping.  Ange has been an avid scrapbooker for 18 years and every year she creates a slideshow set to music for the family to watch on Christmas.  It's who she is and what she has always done.  The camera is an extension of her. Facebook | Flickr