Lifestyle Newborn Photography
Before and After Edit
By: Kala Rath of Kala Rath Photography
I get a lot of questions about how to transition from posed newborn photography to lifestyle newborns, so I wanted to share a simple pullback with a before and after of how I edit my images with you!  For me personally, it was a transition that was based on learning to pursue my creative vision, while keeping it intimate and personal. I absolutely love the idea of newborns being photographed in their own nursery. I think it is amazing that when these children are teens, young adults, and adults they will be looking back at the images that I photographed! I also know that it is human nature to wonder what life was like in a time you don't remember but were involved. Your parents spend months – sometimes years –  preparing for you, a nursery, baby showers, a new home even and certain family pets that are all a part of your very new infantile life. As a lifestyle photographer, it is my goal to document these precious babies in a light that provides them a memory and sense of their childhood when they look back on them.
Here is a pullback and progression of the image I will be walking you through:
I start by adjusting my image in Adobe Camera Raw.
Adjust temperature balance and exposure in RAW to make it a tad better
Apply Fuji 160 (VSCO Preset)
Reduce yellows and oranges
Open in Photoshop and clone out the line of the rocker where the seat meets the arms
Apply a white gradient at top right corner and reduce opacity to 27%
Use patch tool to reduce the red in the corner of the eyes
Apply Portraiture
Reduce opacity of Portraiture
Adjust levels a touch
One last thing – make it super small (Command "-" key, for a Mac) to check for anything! Seriously, it makes a difference!
….and we are done.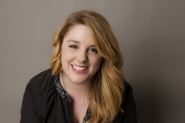 Kala, of Kala Rath Photography, is a lifestyle motherhood photographer based out of Northwest Arkansas with a very minimalist style. Kala is passionate about capturing everyday moments and focusing on the connection between family members.