Our Month at Prairie-dise
By: Natalie Wiseman Wheeler of Act Naturally Photography
For the past eight summers since we moved to Phoenix, we have been fortunate enough to go back to Ohio and spend time with our families.  For most of our trip, we stay at a home we refer to as "Prairie-dise," as it's located on Prairie Street and it's a virtual paradise for kids and grown-ups alike! It's a great opportunity to reconnect with cousins, extended family members and friends. Located on the shores of Lake Erie, it is a quiet, peaceful place where life seems to move a little slower.  The photographer in me loves the change of pace and surroundings as the lush, green Ohio landscape stands in such stark contrast to the dry, brown Arizona desert.  My family has been coming to this area since well before I was born.   Having grown up in Washington D.C., then Columbus, Ohio, and later living in Pittsburgh as an adult, this place has been the one constant in my life.  As a child I spent our summers there and have so many happy memories.  It's really something special to see my children enjoying it as much as I did and creating their own unique memories in this very familiar place.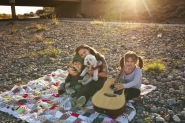 Natalie is a lifestyle photographer based out of Phoenix, Arizona.  She is a mother of two young children who are her main source of inspiration.  Her primary goal as a photographer is to get to the core of human connection by capturing authentic, emotive expressions and documenting life as it unfolds.
There was an issue loading your exit LeadBox™. Please check plugin settings.