Photo Hunting with My Three Year Old
By: Sabrina Vercueil of Sabrina V. Photography
For my son's third birthday our gift to him was a camera –  it's an effort on my part to try and share my passion with him. Perhaps having his own camera and understanding the thrill of see – capture – view will make him a more willing subject.  At the very least, I'm hoping it keeps him nicely occupied and non-tantrumy if I go out shooting street photography.  But ideally I see us bonding over our shared love of capturing beauty and spending many days together out and about, only to come home excited to see what we've both captured.
I can dream. I can also try… so I take him on photo hunts.
I set the day up as a game, starting the night before. At bed time, we talk about what we are going to 'hunt' the next day. In the case of the images below, a lion.  We head out the next morning after choosing our attire, for this trip he choose our local football team's T-shirt, it has a lion on it. We then head out exploring – sometimes in the forest, sometimes through town, sometimes on buses and trains. I actively encourage him to take photos of things that I notice he's interested in, but I never force him to.  Some days he comes home with 10 photos, other days he comes home with none.
He thought there might be lions at the lake so we got on a bus….
and then sat by the promenade to see if we could spot any.
His camera comes out.
He searched in the sky and on the ground (p.s. don't be fooled… they're Chihuahuas, not lions.)
Surprise of the day! We bumped into his Nonna.
She invited us for ice cream  – a nice treat on a long hunt.
He declared the ice cream BEElicious!
Back we go on our hunt… he's found a clue. I choose not to tell him that lions don't have feathers.
We say goodbye to Nonna.
It's almost 40 degree weather, so he sneaks in a paddle. I fall in love with his little footprints.
Post dip we find what could be a den. Is there a lion in there? His face tells me 'No.'
But, hang on. What's this? Tourists… and many of them! They must be taking pictures of something really exciting.
It's the lion!
He declares the hunt a success. Well, those are my words…his were 'WE DID IT MUMMY!!!"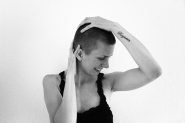 My name is Sabrina Vercueil. I'm a Swiss/Kiwi living in beautiful Lucerne, Switzerland. I like to shoot things that move me. This includes – but is not limited to – family's stories, fine art, weddings and street photography. Facebook | Website