The Power of Artificial Light
By: Karen Osdieck of Karen Osdieck Photography
During the short days of the long winter months shooting in artificial light is nearly unavoidable!  This year is the first time I have committed to a 365/366 project so I decided to embrace shooting with a high ISO, in artificial light.  Here are some examples and tips I have put together to hopefully tempt you to get out there are try it!
Indoor Overhead Harsh Lighting
I set a custom white balance in camera because overhead lighting in a store like this is on the warmer side.  I set my shutter speed first since they were moving around, this forced me to crank the ISO to 6400!  Also I positioned them at a spot where they were still receiving reflective light but it was not as harsh.
The Ice Light
I have been shooting with the Ice Light for 2 years now and it is gaining popularity.  I prefer to use it instead of an off camera flash.  I am a very visual person and seeing the light before I click the shutter is very helpful.  In this image the Ice Light was my only light source and it was shot after it was already dark outside.
Artificial Light in The Environment
Whether it is the overhead light at your kitchen table or the light of your refrigerator, it can be used to make a powerful image. Even though his face is on the underexposed side I did not want to blow the highlights in the freezer.  Again, this was my only light source and I let the rest of the scene fall into shadow.
Technology Light
Tablets, iPads, computers, TV's….all the tech toys that our kids love emit light!  These images make for a great black and white conversion!  Meter for the highlights in your image but be aware that any color the light of the screen is giving off it will make your subject look that color.
Hand Held Light
I bought a few LED flashlights to let my kids play with and use as a light source while reading a book – which also makes reading at story time more fun!  Photographing a young child doing anything with a flashlight could test your patience.  If there is not enough light on your desired point of focus your lens will "hunt" for focus.  For this image I had him hold the flashlight in a position where there was enough light being reflected back on his face!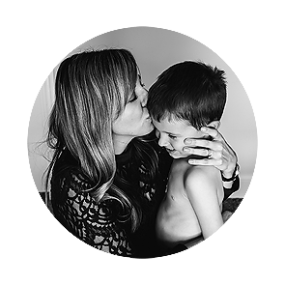 Karen Osdieck
Karen Osdieck Photography
Karen Osdieck is a natural light lifestyle and environmental portraiture photographer residing in the Chicagoland area with her college sweetheart husband and two little boys. Karen finds inspiration from real emotions, connections, and dramatic lighting, while capturing the little moments of childhood.