Pursuing Dreams
By: Angee Manns of 2B Seen Photography
I met Tami in 1990 during our freshman year of high school.  She was amazing…smart, funny, and incredibly talented.  She sang in the choir and performed in the musicals, usually as the lead.  In 1991 my dad's line of work took us to Guam for thirteen months.  I left many friends behind, some old and some new.  Only one friend consistently wrote to me while I was gone and that was Tami.  Getting her letters in the mail while I was there was the highlight of my week.  I felt so far away from everyone (which I was) and just knew I was missing out on everything. I don't remember what we wrote about – I just remember the feeling of getting that letter and knowing that someone back home still cared and was looking forward to seeing me when I got back.
I got home late into my sophomore year and I was scared to death to go back to school.  This is before Facebook and cell phones.  I literally had not seen or spoken to most of my friends in that entire year.  A lot of them had moved on and we were no longer friends, which broke my heart, but I still had Tami.  I was so nervous on my first day back to school and she skipped class to sit with me while I freaked out and then got into trouble for it.  Now that's a true friend.
We stayed good friends through high school and ended up going to college together.  College didn't last very long and after we were back home, we stayed best friends and even added a couple to the mix around 1995.  Enter Mikey and Avis.  We went to high school with them too, but we weren't close.  Something clicked with the four of us and here we are, twenty years later, and we are all still best friends.
As we flew into adulthood, our love for our hobbies turned into a passion for purpose.  Tami's talent as a writer, and my talent as a photographer pushed us past the point of mild creative interest into a sheer love and need to pursue our dreams.  She began writing her first novel six years ago.  And in that amount of time, she has published five novels and collaborated on another novel with a group of dystopian authors.  I shot the cover for one of the novels and a professional relationship was born.  Mikey had been hiring me to take her family photos for years already and had a love for it herself, so she pushed me into creating a Facebook page and together we created 2B Seen Photography.  She started out as my assistant but is blossoming into quite the talented clothing stylist.  Mikey works with Tami year-round coordinating outfits for book signings, speaking engagements, and business trips.  We take her professional photos for her author platform and book covers, and Mikey is a huge part of the process when we brainstorm for new cover ideas.  And all the while Avis has been a huge supporter for all three of us.  She was a cheerleader in high school and she still takes on that role, cheering all three of us on as we try to turn our passions into careers.
We aren't just following these dreams of ours, we are pursuing them together.  I can't think of anyone else that I would rather have on my team than these three women, and we make a pretty darn good one.
You can find Tami's work under TK Carter on Amazon and Goodreads.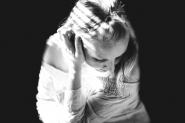 Angee, of 2B Seen Photography, is a full time career mom to a 10-year-old boy, a couple of furbabies, and a flock of chickens. Angee lives on a farm in Central Missouri with her new-to-be husband.  In her free time Angee is a photography enthusiast with a love for all forms of memory keeping.  Ange has been an avid scrapbooker for 18 years and every year she creates a slideshow set to music for the family to watch on Christmas.  It's who she is and what she has always done.  The camera is an extension of her. Facebook | Flickr