A Simple Set Up for a Classic Portrait
By: Kelly Jacobi of Kelly Jacobi Photography 
When I pick up my camera it is usually to capture something that is unfolding before me. I pick up my camera to remember the moment, as is. Of course I, like a lot of us, may set up toys to play with in the pretty pocket of light or suggest we blow bubbles in the backyard as the sun is setting behind them. But for the most part I really do not plan or alter the scene when I pick up my camera.
But I started to notice something was missing – I didn't have many photos with a simple, straight-forward connection. There weren't many photos with that powerful eye connection. While I loved the moments I had documented, and still gravitate toward this style of shooting, I realized I was missing the photos that really showed my boys features. I had lots of photos of personality, action, and our everyday, but not many that were stripped down to bare the bones of just them.
That's when I asked one of my boys if I could take a few photos of just him by the window. It was nothing fancy –  just a window and a rubbermaid bin I hadn't put back in the closet yet. I didn't ask him to do anything special, we just talked and I snapped here and there. I ended up with some of my favorite photos of him.
Now I am hooked and make sure I make time for the simple portraits. I have two go-to places when I want to do these portraits but the beauty is any window in your house will work! The first window is our second floor (iPhone pullback shot shown below) master bedroom window that is east facing. I don't have any fancy set ups or backdrops; and really it's a pretty small little corner of our room. Since this is an east facing window that gets flooded with light in the morning,  I will wait until the sun is at least over the house so I do not get the hard, direct light coming straight in. (Unless I am looking for something more dramatic or a quicker fall off of the light.)
The other window is a lower level north facing window in the living room (iPhone pullback shot shown below). This one doesn't have a wall behind it so I don't have to worry about any kind of shadow being cast behind him. The window of the front door is far enough behind that it doesn't throw too much light in the way of backlighting . Often times I will black out the background in post processing for these kind of shots.
Sometimes I will open the front door and set them against that wall at the base of the steps. (iPhone pullback photo shown below.)
Depending on how close to the window you set your subject, and the angle of your subject in relation to the window, you can have a surprising amount of versatility with such a simple set up. My favorite is to set up subject about two feet away and perpendicular from the window – this way the light is hitting my subject at a 90 degree angle. This allows the light to wrap around each and every little curve of their face and really show of their features. But you can change it up, try different angles. If you have blinds open them wide open and then try half-way. Try putting up a sheer to soften the light coming through. Play with your exposure and see the different types of mood you can create.
Once they agree to come and sit for a few minutes with me I don't ask for anything in particular. We start out by just talking and I get a few serious shots. I might tell a joke or make up a song about stinky socks and get them giggling. My boys favorite is to go through the "show me your __ face." We'll do the happy face, sad face, surprised face, the I love mom face, and then they like to get super silly and start calling out shots like "how about a moose face." Sometimes they only way they want to come sit is in costume, and that okay with me too.
Watch the windows in your house and how the light changes through the day and even changes with the seasons. Have fun taking these portraits, laughing and talking with each other!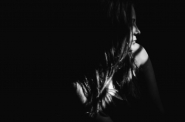 Kelly is a photographer based in Concord, North Carolina, living with her husband and three wild boys. Kelly seeks to record their life in an honest and emotive way. Balancing the mother and the artist /documenting and creating art; she captures each moment not always as they were but as the way they felt. She is delighted by the simple things and believes there is beauty in the details.  Facebook | Website | Instagram