Smoke Bombs + Rooftops
By: Stacey Muniz of Soul Threading
Rooftop Session / Canon Mark ii / Sigma Art 35 mm
This month I'd like to write about a recent collaboration session that I set up with a couple of friends. Some tips will be shed along the way and final thoughts on the very bottom. One friend was a fellow photographer, the other was our model. I had created a Pinterest board that we can work off of, to grab inspirational images from. Then, I did my research into the types of materials we would need, to get the end result that was desired. Originally, we wanted to use smoke bombs to create an ethereal setting by the ocean. Somewhere along the shore line, with wet rocks and bluish green waves, during the sunrise or sunset. We live in Gainesville, FL, so nearest shore lines were about 1-2 hours away. As the day to shoot got closer, I realized how unrealistic this was. What if a ranger saw us and told us to stop? What if it started raining? Or what if it was too windy, blowing the smoke, leaving nothing? I needed a Plan B. So, the idea that popped up was a local rooftop parking deck that was always empty. Everyone was on board, so we went with it.
I could've ordered the smoke bombs online, but I wasn't sure it would've gotten here in time. So, I went local to a firework store instead, and bought about $50 worth – 3/4 color and the remaining were a white fog. There were mostly primary color packs, so next time I will order online if I want something unique. My model friend informed me that one of her outfits was an elegant, silk + lace, champagne color dress – she wore to prom.  With that being said, I felt that we needed one more element.
A flower crown.
The orange – yellowish smoke bomb was definitely my favorite to edit.
LOVE LOVE LOVE
For the crown, I received help from another friend of mine. I went to Hobby Lobby and bought about $15 worth of fake flowers. My friend had the materials to make it – scissors, flower tape & wire – and it took her about 15 minutes to finish. It was perfect. The morning of the shoot was now in a couple days. The three of us woke up around 5 am to get ready to meet at about 6 am. It drizzled a tiny bit, but we lucked out because it stopped + we received a magnificent sunrise.
After a good hour on the very top, it started getting hot, so we moved down to the second to last floor – from the top – of the parking deck. Which provided us with a ceiling and large rectangular concrete windows. This was pretty cool because we discovered that it created an environment for the smoke to be sustained for more time, leaving it to dance around a bit.
Some final thoughts + safety advice for using smoke bombs in photos :
Having an extra person to work with was really helpful. My photographer friend and I would switch off, one would hold the smoke bomb into the frame, the other would shoot.
Plan out the frame before you set off the smoke bomb. Some lasted up to 45 seconds, some lasted about 10 seconds. Your time is limited and you won't have too much wiggle room moving around.
The smoke bombs I purchased were HOT smoke bombs. I've found the more expensive ones are "COOL BURNING" – which are said to last longer and run smoother. The HOT smoke bombs have a chance of being packed too tight, which leads to possibly having a powerful amount of smoke immersing at once, and they also have a small chance of blowing out hot particles. We pointed the smoke bombs behind or in front of our model, never towards her body. We should've worn thick gloves or had a safe device to hold them in while the smoke immersed. We were lucky that no particles popped off onto us, we did handle it carefully though and dropped it if it felt too hot.
The smoke is like campfire smoke. So if you are in it and you breathe it in, it will feel like a lot. Simply walk away from the smoke and try again after you're in safe breathing area. We learned to have the model hold her breath if it was a shot that we wanted her to be surrounded by the color.
Try to plan it on a day where weather is not windy!
If you have a fellow photographer there, try to get in at least one shot! That beautiful lady in these last two shots is the other photographer – Christina Blitch Photography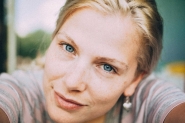 My name is Stacey. I am from Chicago, a city girl at heart. Happily married to a supportive husband whom I have 2 kiddos with. My husband and I share very empathetic hearts. We have lived in Gainesville, Florida since 2011….this is where we rescued our 2 pups off the side of the road. We love Jesus, traveling, the adventure, the escape and the beauty. I guess that's where photography comes into play. Nostalgia, documenting life and holding still a memory, is what I've found to keep me sane. Soul Threading is our photography business, and here, we photograph anything that has love + feeling. Facebook | Website | Blog | Instagram | Twitter