Summers in Phoenix:  A Weekend Spent Finding Inspiration in the Heat
By: Natalie Wiseman Wheeler of Act Naturally Photography
It's no secret that summers in Phoenix are pretty brutal. The heat makes shooting outside sound anything but desirable. I have found myself picking up my camera very infrequently, which was really starting to bog down my creative spirit. This past weekend, I made it a point to take my camera along to document the long weekend. I was determined to find inspiration despite the high temperatures. It turned out I was inundated by inspiration, in the form of a friend's new puppy (a goldendoodle, isn't she cuuuute!!?), kids playing in the yard, swimming, popsicles, and finally a visit to one of our favorite Phoenix restaurants, The Yard / Culinary Dropout.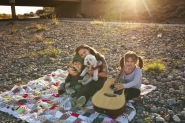 Natalie is a lifestyle photographer based out of Phoenix, Arizona.  She is a mother of two young children who are her main source of inspiration.  Her primary goal as a photographer is to get to the core of human connection by capturing authentic, emotive expressions and documenting life as it unfolds.
There was an issue loading your exit LeadBox™. Please check plugin settings.