Three Girls and A Babbling Brook
By: Jamie Scott of Jamie Nicole Scott, photographer
Summer is nearly gone and autumn is growing near. It's a season of changes: back to school, back to extracurricular activities and back to early bedtimes. Exploring has taken a bit of an ax as we adjust to a slightly new routine so I aimed to head out this week and give the girls a good dose of nature.
I wanted them to REALLY feel the sun trace their faces.
I wanted them to squeal when a frog tickled across their algae covered toes.
I wanted them to skip rocks – side by side.
I wanted them to balance their stance between sticks, stones, and the water gently washing by.
 While shooting, I felt so much gratitude for my children and the chance at simply being present in their lives.
Life is too short and these moments are fleeting.
Enjoy them, friends.
---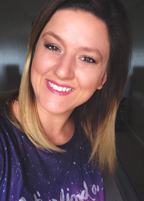 Jamie is a soulful natural light photographer based out of Lafayette, Indiana. When she's not taking care of her three little girls you can find her seeking inspiration from the sky or indulging in a nice strong espresso. She enjoys shooting environmental portraits of her children but her greatest joy comes from teaching them how to be humble under the stars.