When Reality is Better Than Dreams
By: Kelly Sutton of Horse & Feather
"You know you're in love when you can't fall asleep because reality is finally better than your dreams." ~Dr. Suess
Life is a tug of war. A constant push and pull on the heart between reality and dreams. A swaying so constant that it takes on a life of it's own. It becomes the motion of the sea, churning below the boat on which we're standing. We lean left, we lean right, rocking in synchronicity with the ebb and flow life.
And then, sometimes, we find our selves taking a step left, and a quick step right, despite all efforts to find our center of balance. We lowered our eyes from the horizon, distracted by a shiny something that caught our eye—such is life. It's easy to feel the envy of dreams; they will pull your feet right out from underneath your firm footing, if we don't bring our eye back up to where the sun meets the earth. It's easy to feel the "I want that." The Facebook-glue-trap of comparison that feels like, "I want to go there too."  It's easy to feel like everyone's on vacation, and I landed in just another day.
I have those days. Those "just another days."  The days I want to go many places. The days I want to go to many, many pretty places. The days I wish I was sitting in a magical spot on the other side of the world, or at least a three hour drive away. The days I swear by the images I could create if I were somewhere like there. But, those far-away-kind-of-pretty-days just don't happen very often, if even once a year. For so many reasons, those adventures just don't happen. Rather, I find myself in the familiar space of home. The home in which my mom still lives, and I grew up, now watching my children play in the yard where I played.
On just another day, in my childhood home, squeals of excitement can be heard from the neighboring yards, and the cries of over-exhaustion can be heard from even further. The cousins run in opposite directions, and back together again. They eat limes off the tree. They squish their toes in the dirt. They slide backwards down the slide. They become tangled in childhood, laughter and ridiculousness. In these, modest, everyday moments it is all magical. It's the prettiest place I can imagine. And I have the images to prove it. The most beautiful moments of my life can literally be found in my mom's back yard. These are the places and days we dream of, and from which the fondest memories are retold.
Life is happening now. Right now. Right here. I know, because I can see it through my lens. I sit, and I watch, and I wait, and I see. This is the only "where" I want to find myself…in this moment. And I'm in love.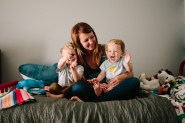 Kelly, of Horse & Feather Photography, is a Southern California native, raising her two sweet boys, with her best friend and husband, in the same neighborhood where she also grew up, just north of Los Angeles.  She has fallen in love with natural light photography, and strives to document the timelessness of childhood, as well as the silliness, adventures, and non-stop energy that being a mom to two boys brings. If she's not taking pictures of her family, she's probably drinking coffee or eating ice cream, and listening to NPR. Facebook | Website | Instagram