Why a 365 Project?
By: Kelly Jacobi of Kelly Jacobi Photography 
I may be impartial, as I am embarking on my 2nd year of a 365 project, but I am convinced this project may be the single most important thing you could do for your photography right now.
You know the quote from Henri Cartier-Bresson about your first 10,000 photographs being your worst? Well this is the best way to chip away at that.
I don't remember why I started a 365 but I don't think I will ever stop. I can't, not now.
It's quite possibly the easiest and the hardest photography project you could every take on. There really are no rules, no boundaries, simply pick up your camera every single day. It doesn't matter if you are photographing your kids, your flower garden, or your morning coffee – just pick up your camera and snap.
Easy right?
Every. Single. Day.
Not so easy. Right?
This project pushes you out of your comfort zone. If you are anything like me and my family, most of your days are filled with routine.
Morning coffee. Check. Kids off to school. Check. Homework.  Check. Dinner. Check. You get the idea.
Sure there is a trip to the zoo or a birthday woven in there, but this project forces you to slow down. See each day as a new day, as a different day. It challenges you to find something beautiful you didn't see yesterday.
When I first started I won't lie, I struggled, a lot. I remember forgetting or almost panicking that I hadn't picked up my camera for the day, but that forced me to get creative. I grabbed the iPad to light my guys while they slept, or to shoot my oldest lit only by light of the fish tank he loved so much, or I tried a macro shot of some willing flowers.
Some of my most favorite shots came when I was least expecting to pick up my camera, but did anyway. Some were for the mom in me, some were for the artist in me. Both were important to my story in some way.
If I was in a rut, I was grabbing my Lensbaby, freelensing, or wrapping my camera in saran wrap. I was trying panning, macro, you name it; I mean why not.
Being forced to pick up my camera began to feel more like being compelled to pick up my camera. I began to see things differently. I suddenly realized I had never captured the independence that runs so ramped in my boys. I was compelled to ask my oldest son to pose for a shot to process the feelings I was feeling. It was now empowering to pick up my camera, not a chore.
Just as easily as forced had shifted to compelled, suddenly I was inspired. My camera had become almost an extension of my arm. I don't even think about or worry about my shot of the day anymore; I now worry about how I will narrow it down to just one single shot to use for the day. Most days I am inspired to pick up my camera morning, noon, and night because something I have never seen or something I see in a new light grabs me and pulls me in.
The beauty of this project is you can only grow as a photographer by picking up your camera every day.  You may find a new love for macro or landscape when you are "forced" to grab a shot because you don't know what else to shoot. You will be compelled to see your every day in a whole new light. I guarantee, whether you realize it or not, you will not go through your day in auto pilot because the back of your mind will be waiting for that perfect moment that grabs you, the one that didn't grab you yesterday. Suddenly you will find your voice. If you shoot what you love long enough, it rises to the surface and smiles at you, almost laughing in your face that you didn't see it plain as day before this.
This is by far the easiest and hardest project you can ever take on.
What I have found to make this 365 project a little easier on me…just go easy on yourself. You are not shooting for the Facebook or blog community. You are not obligated to post daily or on a regular basis. Once I let myself off the hook for this my project took off. I shared when I had the chance to share; half the pressure was gone. Another great thing is a 365 project is not a novel project, it is easy to find others embarking on this journey as well, it is a great opportunity to connect with other photographers. It is a great opportunity to make friends and a establish a sort of accountability to the project when/if it gets hard. The last piece of advice I can give for this project is just to shoot, honestly go crazy. This project had no rules outside of the daily nature. I have taken photos of my kids, my dogs, my flowers, my coffee brewing, my wheat fields, myself. It is an amazing opportunity to explore and to push yourself creatively; without pressure.
Did you get your shot for the day? Yes? Perfect, you got it then.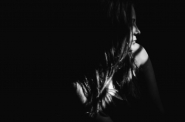 Kelly is a photographer based in Concord, North Carolina, living with her husband and three wild boys. Kelly seeks to record their life in an honest and emotive way. Balancing the mother and the artist /documenting and creating art; she captures each moment not always as they were but as the way they felt. She is delighted by the simple things and believes there is beauty in the details.  Facebook | Website | Instagram